Santi Ghosh and Suniti Choudhury: Two Teenage (15 and 16 years old ) Freedom Fighters Assassinated British Magistrate
When Netaji Subhash Chandra Bose met the girls at the end of the conference, Prafulla Brahma asked his opinion about women's involvement in direct revolutionary action. In reply he said, "I will be pleased to see you peoples in front rank"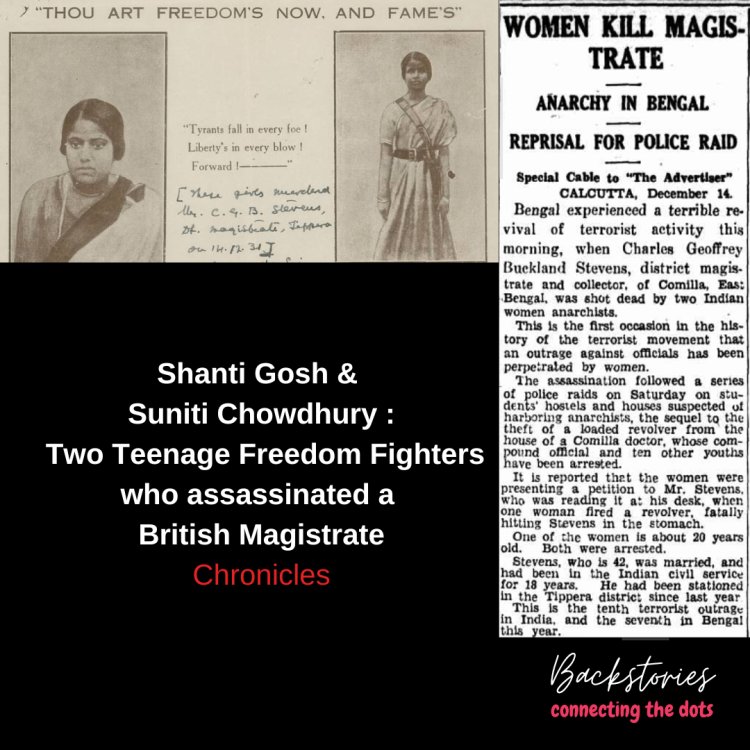 Santi Ghosh and Suniti Choudhury: Two Teenage Freedom Fighters Assassinated British Magistrate
The year was 1930. The Civil Disobedience Movement was in full throttle—police brutality was equally strong. Fight and perish — this was the spirit of patriotism that was conspicuous in every freedom fighter across India during British rule.
Shanti Ghosh and Suniti Chaudhary were like any other teenage girls , but no one would imagine they would shoot a tyrannical British magistrate Charles Geoffrey Buckland Stevens, for avenging the hanging of Bhagat Singh, Rajguru and Sukhdev.
Santi Ghosh was only 15 years old and Suniti Choudhury 14 when they jointly assassinated Stevens. It was 14 December 1931. Both their families negatively suffered the brunt of their heroic deed.
Santi Ghosh
Santi Ghosh was born on 22 November 1916 in Calcutta. She grew up in a patriotic environment. Her father Debendranath Ghosh was a freedom fighter and a professor of philosophy at Victoria College, Comilla. At the age of 15, Santi Ghosh co-founded the Chhatri Sangha (Girl Students Association) and served as its Secretary. She was not only inspired by her family to be a part of the freedom struggle but also by Prafullanandini Brahma, who was older to her by two years. Brahma was a member of the Jugantar Party, a group that believed in the use of arms to drive the British out of India. It was a secret group that masterminded the assassination of many British officers.
Many members of Jugantar Party caught by British were arrested, hanged, or deported for life to Kaalapani, the Cellular Jail in the Andaman Islands. Santi Ghosh joined the Jugantar Party. Just imagine the level of patriotism of these young girls — Brahma aged 17 and Ghosh 15 who were ready for armed rebellion against the British without fearing the consequences! After joining the Jugantar Party, Santi Ghosh trained herself in self-defense and the use of arms, especially using swords, clubs, and firearms. She looked slightly older than her age, as she dressed herself to look older - her hair gathered in a knot at the nape and often draped in a white cotton sari.
Suniti Choudhary
Suniti Choudhary was born on 22nd May 1917, in Comilla district of West Bengal (currently a city in the Chittagong division of Bangladesh). She went to Foyjunessa Balika Vidyalaya in Comilla for school.
From a very young age, Suniti hated the British. She belonged to a family of freedom fighters. Two of her elder brothers were already actively involved in the freedom movement. She mixed up with friends who nurtured similar ideologies — of being participants in India's struggle for independence and drive the British out of India through armed rebellion.
During her school days, she met Santi Ghosh and Prafulla Nandini Brahma and was inspired by their patriotic zeal. She was deeply influenced by the activities of Ullaskar Dutta, who manufactured bombs intended for use against British colonial officials.
Around this time, Prafulla Nalini Brahma, who was her immediate senior at Faizunnisa Girls' High School, also became a great influence on Choudhury. She mentored her and also supplied her with the books and the revolutionary literature banned by the British. Choudhury's beliefs were shaped by Swami Vivekanand's famous words—"Life is a sacrifice for the Motherland".
Prafullanalini Brahma recruited Suniti Choudhury as member of the Jugantar Party. Suniti Choudhury was made the Major of the District Volunteer Corps. She led the parade of girls when Netaji Subhash Chandra Bose was in town to address the student organisation. Choudhury was selected as the Captain of the Women's Volunteer Corps in the Annual Conference of Tripura Zilla Chhatri Sangha, held on 6 May 1931. During this time, she was known by the alias of 'Meera Devi'. She was selected as the "custodian of firearms" and was in charge of training female members (of the Chhatri Sangha) in lathi, sword and dagger play.
While Netaji Subhash Chandra Bose met the girls at the end of the conference, Prafulla Brahma asked his opinion about women's involvement in direct revolutionary action. In reply he said, "I will be pleased to see you peoples in front rank". On being requested by Shanti Ghosh to give his autograph, Subhash Chandra Bose wrote, "To preserve your, honour, take up arms yourselves, YE MOTHERS"
Meanwhile, 'Chhatri Sangha', was training young girls, while the smartest and bravest of the trainees passed on information, papers, arms, ammunition, and money, for the revolutionaries. However, Prafulla, Santisudha Ghose, and Suniti Choudhury demanded more effective responsibilities. They wanted their responsibilities to be equal to that of boys. This naturally raised questions by some of the senior leaders on the purpose of girls taking up arms. When this happened, Suniti retorted, "What good is our current dagger-and-stick play, if we shy away from real action?"
Finally, Biren Bhattacharjee, one of the absconding leaders, secretly interviewed the girls and declared the three to be of outstanding courage.Their practical training began under the supervision of Akhil Chandra Nandi, president of the Tripura Students' Organisation. They skipped school, sneaked out to the Maynamati Hills away from the dense town, and fired practice shots.
The key challenge was not to shoot targets but to manage the back kick of the revolver. Suniti's index finger did not reach the trigger properly, but she was not ready to give up. She used her long middle finger to fire her lethal shots from a small revolver of Belgian make.
Till this time, it was men who took the lead role in giving shap to bombings and assassinations pertaining to British officers. Women freedom fighters worked in the background. Considering their valor and courage at such a young age, Santi Ghosh and Suniti Choudhury were chosen for direct action — of assassinating Charles Geoffrey Buckland Stevens, the District Magistrate of Comilla.
Stevens was a man who would stop at nothing to destroy the Satyagraha. He threw all the leaders into prison, and harassed every non-violent Indian who raised a voice. Something had to be done to set the balance right, and Santi-Suniti were going to execute it.
During this time, the freedom movement had taken a serious turn in Bengal. Many freedom fighters openly revolted, leading to their arrest. A group of patriots under the banner of a secret group started assassinating infamous British police officers who were notorious for committing atrocities on arrested freedom fighters such as beating them to unconsciousness, inflicting them various forms of torture, and of undressing women Satyagrahis in the streets. There were also rumors about British police raping women Satyagrahis. Santi Ghosh and Suniti Choudhury were all the more determined to take action.
Freeman Thomas, the Earl of Willingdon was then the 22nd Viceroy and Governor-General of British India. He passed an ordinance in India that suppressed the civil rights of Indians, including that of free speech. British district magistrates and police officers misbehaved with the Indians, especially those who were arrested and tried. These magistrates and police officers also raped Indian women.
Meanwhile, news about the hanging of Bhagat Singh, Rajguru, and Sukhdev on March 23, 1931 shook the nation. This cruelty and heartlessness of the British Raj was directed towards instilling fear in the hearts of other freedom fighters, but in vain. A thousand Bhagat Singh, Rajguru and Sukhdev sprang up from across the country. So did resentment in Bengal increase! Santi Ghosh and Suniti Choudhury and other young freedoms were all the more ready to attack and kill British officers. And they waited for an opportune time.
Assassination of Charles Stevens
Stevens was born in December 1880, originally belong to London. He arrived in India on December, 18 1914. He joined as Dist. Magistrate & Collector of Tiepera which was the district of Comilla, on 6th March 1930.
At 10 am on 14 December 1931, a carriage stopped before the District Magistrate's bungalow. Two teenagers descended from it, giggling, brimming with excitement. Both had a silk wrapper around their sarees, perhaps to beat the cold! The coachman drove off with some haste, even before they could cross the long corridor.
Santi Ghosh and Suniti Choudhury sought permission to meet Comilla District Magistrate, Charles Geoffrey Buckland Stevens. Their request for permission was granted against presenting a petition of arranging a swimming competition amongst their classmates in school. They entered the Magistrate's office room where he was seated. They carried automatic pistols hidden under their shawls. As they were school girls, British police did not suspect them and avoided searching them. They facilitated their easy entry.
The girls sent an interview slip through the orderly, and the Magistrate came out, along with Sub-divisional Officer (SDO) Nepal Sen.
Stevens glanced at the letter passed to him. The girls, Illa Sen, and Meera Devi as per the signatures, were appealing to the Magistrate for a swimming club. The use of a much-flattering "Your Majesty" and some otherwise incorrect English left no doubt about their sincerity. Illa also identified herself as being the daughter of a police officer to win over the "majesty's" sympathy.
The girls were getting impatient for a clean window. They requested Stevens to sign the letter as a reference. He went to his chamber, and soon returned with the signed paper.
That was his last move before the shots rang through the house. The notorious magistrate's last sight was the two girls, now without the silk wrapper, pointing two revolvers straight at his heart.
Santi Ghosh and Suniti Choudhury shot at Stevens, killing him on the spot. The SDO jumped in too late. The sound of gunshots alerted the British police. Soon they were overpowered and arrested. When people gathered to capture the two teenagers, Santi and Suniti did not defend the heavy thrashing that ensued.
They came prepared for all the upcoming torture—pricking pins on their fingertips to increase their endurance of pain—so they were not going to break under beatings or speak a word about their secret organisation. They kept a straight face even when molested under the pretense of body searches for weapons. It was 14 December 1931 — near to nine months past the martyrdom of Bhagat Singh, Rajguru, and Sukhdev.
The revolutionaries distributed pamphlets about the brave girls. People adored the photograph of Suniti in her Major's uniform, a single line written beneath it—Rokte Amar Legechhe Aaj Sorbonasher Nesha—The burning desire of destruction rages in my blood today.
Trial and Sentence
The two girls were mercilessly beaten. But they maintained their calmness all the while. They didn't panic. The girls were taken into custody and imprisoned in the local British jail. In spite of all the difficulties, Choudhury and Ghose maintained their calm and cheerfulness throughout their trial days in the prison and in the court. They expected to die martyr's death.
When the trial began, the courtroom was struck in disbelief over their appearance. They were beaming and enjoying the awkwardness of the spectators—they turned their backs to the judge and all other court members because they were denied chairs to sit. They would not budge to show respect to any person if they were not offered basic courtesy first.
When SDO Sen came as a witness and started cooking up stories, they shouted "Great Liar! Great Liar!" so loud that the courtroom was in mayhem. Nobody could get away with offending them, because the two little girls seemed to fear no court.
They sang patriotic songs from the police van to the courtroom and back, offering radiant smiles to people gathering near and blessing them from far.
Their smiles faltered only when the verdict was out. The audience saw a different side of them, two depressed faces over the sheer disappointment. It was lifetime imprisonment, which meant they missed their window of martyrdom. They were heard on the way, fuming, "This should've been a hanging! Hanging would be so much better!" stunning news reporters into silence.
The authorities never backed down on the effort to break them. Prafulla was suspected as the chief conspirator and thrown into jail. Later, she was under strict house arrest, where after five years, she died from lack of medical care.
In an interview, they stated, "It is better to die than live in a horse's stable."
The first bullet had pierced from Suniti Choudhury's gun, which immediately caused the British officer's death. The next round of bullets by both the teenage girls left no scope for the Magistrate to survive. Hence, Suniti was given a harsher punishment. She was segregated from all other political prisoners.
Santi was kept in second class with the other revolutionaries, while the younger Suniti was pushed to the third class, with the thieves and pickpockets.
Public and Media Response
Contemporary Western periodicals characterized the assassination of Stevens as a sign of "Indians' outrage against an ordinance by the Earl of Willingdon that suppressed the civil rights of Indians, including that of free speech." Indian sources portrayed the assassination as Ghose and Choudbury's response to the "misbehaviors of the British district magistrates" who had abused their positions of power to rape Indian women.
After the verdict was announced, a flyer was found by the intelligence branch of police in the Rajshahi district praising Ghose and Chowdbury as nationalist heroines. The poster read, "THOU ART FREEDOM'S NOW, AND FAME'S" and displayed photographs of the two girls alongside lines from Robert Burns' poem Scots Wha Hae:
"Tyrants fall in every foe!
Liberty's in every blow!"
The British stopped Suniti's old father's pension. They detained her two brothers without trial and tortured them. Her family members in no time were on the brink of starvation. Later, her younger brother died due to years of malnutrition.
Suniti Choudhury was held captive in Hijli Detention Camp as a "third class prisoner". The effects of her activities were also faced by her family, with her father's government pension being stopped, and her two elder brothers being held in custody without trial. Her younger brother died from consumption, exacerbated by years of malnutrition.
This also meant zero human rights from deplorable food to bad clothing. Suniti didn't seem to mind either. She went on with her daily jail chores, regularly hearing about the police atrocities her old parents faced, how her elder brother was arrested. The news of her younger brother becoming a hawker in the streets of Calcutta, his death from sickness and starvation, reached Suniti but failed to break her calm resolve.
The petty criminals adored this girl of a regal yet humble attitude. Bina Das wrote about one incident where after a Ramadan fast, a woman fiercely insisted that Suniti have her glass of sweetened saline water because she believed the young lady to be more deserving of the treat.
She was released, along with Santi Ghose in 1939, after having served seven years of her sentence, because of the amnesty negotiations between Gandhiji and the British Indian government
But the revolutionaries never quit.
She started over gallantly, put all the efforts in her studies, passing in the first division of the pre-university course (ISc) from Asutosh College. She carried on to Campbell Medical School for the Licentiate in Medicine and Surgery (LMS) and finally secured admission in Calcutta Medical College in 1944. After completing the MB (now MBBS), she married Pradyot Kumar Ghose, another activist and former political prisoner, her brother's friend.
Suniti's skill matched by her kindness and dedication, quickly made her a reputed doctor in Chandannagar, where the people lovingly called her "Lady Maa" (Lady Mother).
In the first general elections of 1951-52, Dr Suniti Ghose was offered a contesting ticket from the Congress and the Communist parties, which she firmly refused. She was not interested in political plays which already undermined her contributions.
She endured political battles for her career thereafter.
Suniti was not only financially independent, but also helped her brothers in their business, and contributed to the care of her paralysed parents. She loved children and nature, teaching them gardening, swimming, and nature studies. She encouraged her daughter, Bharati, to celebrate different occasions and festivals.
She breathed her last on January 12, 1988, leaving behind a legacy of patriotism, bravery, kindness, and inspiration.
Salute to nationalist heroines Santi Ghosh and Suniti Choudhury. Jai Hind!
References:
timesofindia.indiatimes.com - Priyanka Dasgupta
thebetterindia.com - Aishi Roy
mediaeyenews.com - Anupama Nair
Saffron Swords: Centuries of Indic Resistance to Invaders - Manoshi Sinha Rawal, Yogaditya Singh Rawal
What's Your Reaction?