On This Day On This Day : November 22 1830 | Jhalkari Bai Birth Anniversary
Lost in the pages of history is the tale of an incredible warrior and woman named Jhalkari Bai.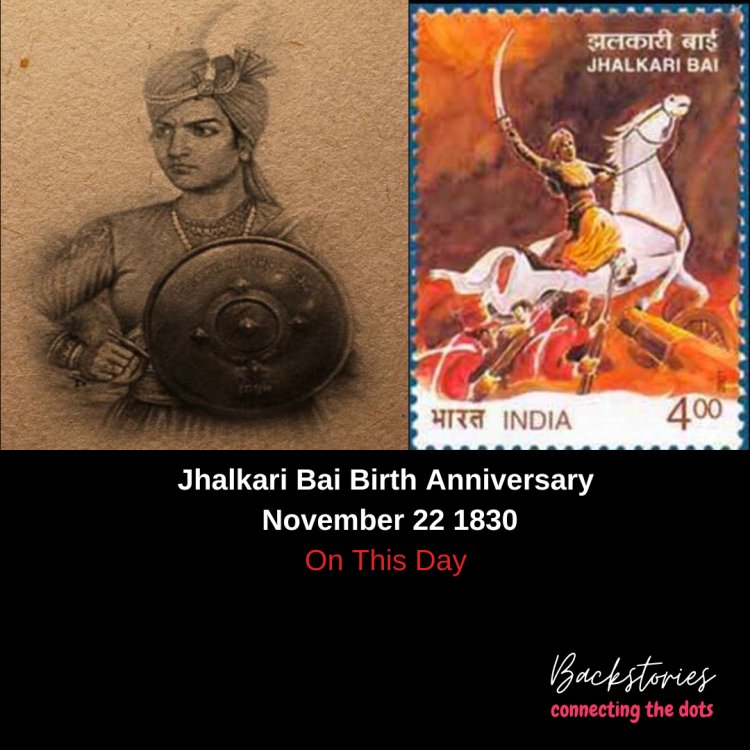 Born on November 22, 1830, Jhalkari, was born to Sadoba Singh and Jamuna Devi in Bhojla village near Jhansi. The only child to her parents, her father had to raise her as a single parent when her mother passed away unexpectedly when Jhalkari was still very young.Since the family was poor and part of the Kori caste , she didn't have the opportunity to go to school and get a formal education. However, right since her childhood she was taught to wield a weapon skillfully and given horseback-riding lessons.
Tales of her bravery continued to be told in various households in Jhansi. It is said that once when dacoits tried to raid the house of a businessman living in the village, it was Jhalkari who single-handedly drove them away. She is also said to have killed a tiger with her axe when the animal tried attacking her once in the jungle.
Jhalkari may have never met Rani Laxmibai had it not been for her betrothal to Puran Singh, a soldier in the queen's army. Said to be a soldier of great caliber, his skills were quickly recognised by the generals in the court. And it was also around this time that the fateful meeting between Jhalkaribai and the warrior queen would take place.
During Gauri Puja, Jhalkari went to the fort along with a number of women from the village. It was there that the legendary 'Jhansi ki Rani' spotted her. And she was taken aback by the uncanny resemblance she shared with Jhalkari, and inquired about her immediately. When the queen was briefed on Jhalkari's brave acts, she was quickly inducted into the women's wing of the army. Here she was trained to shoot and ignite cannons as the army was preparing for a British invasion.
The battle of 1857 started with the Mutiny of Sepoys on May 10, 1857, in Meerut and it quickly gave rise to a number of rebellions across North and Central India. Deemed the first war of independence, Jhansi played a crucial role in the rebellion and Rani Laxmibai was among the leaders who took on the British forces.
It was in 1858, when Field Marshal Hugh Henry Rose, 1st Baron Strathnairn, attacked Jhansi to put an end to the mutiny once and for all. As it has been well documented in history books since, the brave queen took on the British forces from her fort with just an army of 4,000. She could have held on to the fort for long but she was betrayed by one of her own commanders, thus making defeat imminent. Counselled by her generals to escape immediately, Laxmibai quietly slipped away from Jhansi on horseback.
That's when Jhalkari sprung to action. Without thinking twice about the kind of danger she was putting herself in, she disguised herself as the queen and went back to the battlefield, took command of the army and walked right up to General Rose's camp. Upon reaching, she loudly yelled that she wanted a meeting with the General himself.
This plan was both to keep the enemy forces at bay and also give the queen more time to evade capture and get out of harm's way.
Given her resemblance to the queen, it effectively confused the British army that supposedly bought into her act for at least one day. According to Bundelkhand legend, when the General (thinking her to be the queen) asked her what punishment ought to be meted out to her, she looked at him squarely in the eye, asking him to hang her. He is then said to have replied with quiet admiration that if even 1% of women in India were like her, then the British would have to leave the country defeated.
It was only a day later, when a man named Dulha Joo identified Jhalkari, that the British learned of the deception.
There is a lot of confusion regarding her death. Some accounts place the year of her death as 1958 and in some accounts, she was set free and lived a long life afterward and passed away only in 1890.
While tales of courage and valour lived on in stories shared by the Dalit community, Jhalkari's own story was largely ignored by historians for a long time. However, in recent times there has been a concerted effort by historians to highlight the story of this incredible woman. There is a statue in her honour in Gwalior and in 2001, the government of India released a stamp to pay tribute to a warrior who lived and died defending her people and her country.
What's Your Reaction?