On This Day : January 31 1979 | Marichjhapi Genocide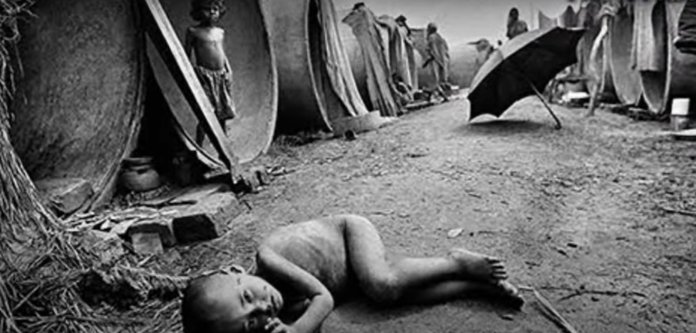 When the Hindus who had migrated from Bangladesh and were kept in the temporary migrant camps of Dandakaranya during the partition did not get used to the climatic conditions there and longed for permanent relocation, when the promises of the governments were not fulfilled, millions of them came to the deserted island called Marichjhapi in the Sundarban area and settled there. This Marichjhapi incident was bigger than the post-independence inhuman events like the Nellie massacre, the Eighty-four Sikh riots, the Kashmir Pandit massacre, and, the Gujarat riots of 2002. But for decades, Bengal's communist government kept it under wraps. It is a great irony that thousands of lives have suffered in no man's land, died unrecorded, and gone unnoticed by country after country.
In the Sundarbans region of West Bengal, bordering the Bay of Bengal, dense green mangrove flora that can grow even in brackish water, and some species of wildlife including the famous Bengal tiger can be found in abundance. One of these sprawling island groups is Marichjhapi Island. Around 1977, thirty to forty thousand refugees suddenly arrived on the island. There was nothing livable there, apart from the brown-tasting backwater and thick bushes. What are those poor homeless families?Where did they migrate from? We have to go back a few decades to know.
About 75 years ago, when the British gave independence to the country, India and Pakistan were divided based on religion, and it is a well-known history that there was pain and bloodshed on its back. While India was formed as a democratic secular country, Pakistan, including the eastern and western provinces, declared itself as a religiously Islamic country. Then forced conversions and religious persecutions started on the Hindus who were in the minority there. Hindus started coming to India from the Western Province i.e. present-day Pakistan and it continued till about 1947 within a couple of years the migration would end with lakhs of refugees settling in many parts of North India.
But the migration of Hindus from East Pakistan i.e. today's Bangladesh to India started slowly and continued for many decades. Initially educated, upper caste Hindus migrated and settled in major parts of West Bengal including Kolkata. But migration was not so easy for other poor backward, Dalit Hindus. Most of them belong to the Namshudra sect and depended on land, water, and fish farming. If you leave them overnight, is it possible to make a fortune easily in a new unknown place? It was a time when class discrimination was also high. So they decide to stay where they are. For this, his trusted leader, Dalit-Muslim brotherhood advocate Jogendra Nath Mandal also gave moral support and assurance. Mandal was also the Law and Labor Minister in the early East Pakistan Cabinet.
The Hindus of East Pakistan, who had dreamed of a better and safer future, soon began to lose their illusions. Being a minority, religious persecution increased. The situation became so bad that Jogendra Nath Mandal himself had to run to India to save his life. While coming, he wrote a long letter to the then Prime Minister of Pakistan, Liaquat Ali Khan, about his treachery and pain.
Similarly, the migration of refugee Hindus from East Pakistan Bangla also started slowly. This continued till 1970 when the then state government did not agree to keep them all in West Bengal, India, and they were kept for years in temporary camps in Dandakaranya, an area bordering Assam, Chhattisgarh, and Madhya Pradesh. In those regions where agriculture was not easy, extreme summer and winter anomalies, and unknown languages ​​made life even harsher. The Congress governments in power both in Bengal and at the Center failed to improve the living conditions of the refugees. The Communist Party which was the opposition party used this and started using the refugees who were already settled in Bengal for their political gain. Many left party leaders including Jyoti Basu, and Ram Chatterjee visited Dandakaranya and met the refugees who were settled there too, like you all are our Bangla brothers. If they come to power, they would invite you back to West Bengal and provide them with food, health, employment, loan facility, etc. This gave new hope to the refugees.
Elections were held in 1977 and the Left Front government came to power in West Bengal. The refugees of Dandakaranya waited for some time for their resettlement, but to no avail, they started migrating towards West Bengal in droves. As soon as they got off the train, the refugees were sent back to Dandakaranya. About 30,000 or 40,000 of the 150,000 refugees fled to Marichjhapi, an uninhabited island in the Sundarban region, and settled down. All this happened around 1978.
These people were hardworking. They used their rice paddies and ate their rice by working the land. They built a small town on Marichjhapi Island. They built small barriers and roads to run across the raging waves. Pits were dug to store the rainwater as the surrounding water was not fit for drinking. He started growing small crops. He used to catch fish to make ends meet and sell it in the market of the nearby Kumirmari island at a measly price. For this, he also built a manufacturing center for small boats. Women started sewing and embroidering clothes. Marichjhapi's cake and cup bread became famous all over the islands. A few voluntarily came forward to teach the children and opened a small school and a treatment center. Although all this was accomplished without government assistance, life was not that smooth.
By this time, the communist government led by Jyoti Basu had completely changed its outlook. They said that they should go back to Dandakaranya and there is no place in Bengal for those who came from neighboring countries. They declared them illegal and the refugee settlements in Marichjhapi a protected forest area. Recognizing them as trespassers, it immediately began pressurizing them to clear the island. Persuasive talks failed. Jyoti Basu herself went to Delhi and complained that these refugees were destroying the Sundarban Protected Forest.
By the end of December 1978, police and CPM goons joined hands and came to Marichjhapi in some boats and started threatening him. He also started warning them not to go to nearby islands and buy their fish, bread, cakes, and clothes. The islanders did not budge.
At some point, CPM started creating a new story. This Marichjhapi started spreading the news that all the refugees were radical Hindus, that they were getting financial help from outside, and that they were making lethal weapons and plotting against India. Due to the partition that was not their fault, they were exploited on social, economic, and religious grounds in East Pakistan, and finally left their homes and monasteries with their wives, children, and elderly parents to save their lives and migrated to India to live as nomads for years. It just became afforestation.
In the meantime, the police and activists came night after night and damaged the boats, and barns seized the fish they had worked hard for the whole day and increased the trouble in various ways. Even so, when the islanders did not budge, the government's weapon was to blockade the entire island and cut it off from the outside world.
Around thirty police battalions, two BSF-armed steamers surrounded Marichjhapi. Boats that catch fish and go out to sell fell into the raft. Drinking water and food stopped coming from outside and some people somehow got caught while buying materials, food for children, and medicine on the neighboring island. About eleven refugees were killed that day in police firing. Their carcasses were dumped in a nearby crocodile-infested basin. Some eyewitnesses claimed that some of the husks were also used as food for the Sundarban striped tigers.
1979, January 31st. It was the day of Saraswati Puja. Seeing the pale faces of the men and children of the house, some of them were women and got into the water in ten boats and went towards the neighboring island to fetch drinking water. Then the police come fast from huge launches and collide with the wooden boats. Go back or die... they started shooting at them. Although two women fell into the river to escape, they were shot in the water and killed. The rest of the women were captured and found in the neighboring deserted islands after several days, where they were repeatedly raped. They started protesting, came to the bank with sticks and stones, and dare to attack the police. The police and CPM workers who were watching this in ambush advanced firing. They broke into every house in the town and looted. Protesting refugees were shot at, irrespective of women and children without even looking at them. Even children who went to school hid in fear and were thrown out. The idol of Saraswati was broken.
In such a dire situation, organizations like Ramakrishna Mission, and Sevashram come forward to provide food parcels and humanitarian aid, but the police and communist workers stop them, pour the milk they brought for the children on the ground, but the goons turned them back. That's why even Mother Teresa doesn't come forward to help. There were no social media like today. There were no 24-hour breaking news TV news media. The few media that were there did not have access to Sutram. Although a couple of newspapers published the news, the government ensured that it was not made available in the market. All this was happening just 75 km away in Kolkata. The Jyoti Basu-led communist government will ensure that there is no trace of vivacity.
The blockade on Marichjhapi continued for about a fortnight until the Kolkata court finally ruled that blocking food, water and medicines was not the right course of action. In those days the people of the island drank water mixed with salt. Many people started eating grass as hunger became unbearable. Even at night, the children cried continuously due to hunger and fell asleep. Some people died after drinking that water because someone poisoned it. According to one report, around 1700 people, including women and children, were killed during the entire incident. Many of the women who were transported were gang-raped at the police station.
Those who perished were forcibly sent to Dandakaranya and other areas. Some of those who lived at that time remember those days like a nightmare and are still shocked.
This Marichjhapi incident was bigger than the post-independence inhuman events like the Nellie massacre, the Eighty-four Sikh riots, the Kashmir Pandit massacre, and the Gujarat riots of 2002. But for decades, Bengal's communist government kept it under wraps. It is a great irony that thousands of lives have suffered in no man's land, died unrecorded, and gone unnoticed by country after country.
What's Your Reaction?