Petition : Complaint regarding objectionable comments shared on social media by Mrs. KK Shailaja regarding Manipur riots.
Petition Delivered To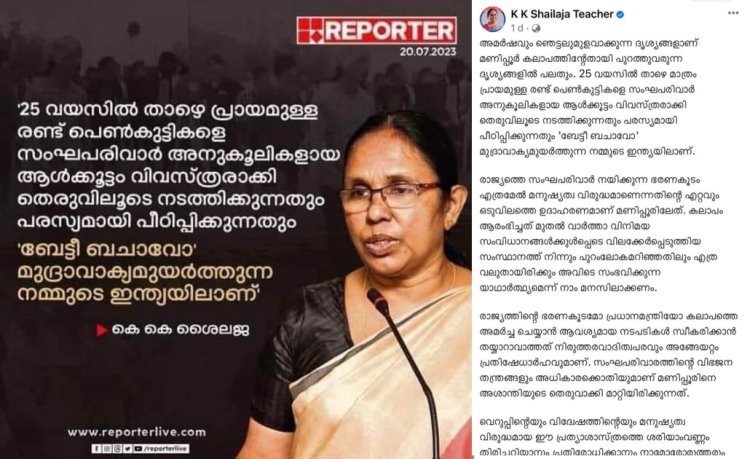 Sir,
Subject: Complaint regarding objectionable comments shared on social media by Mrs. KK Shailaja regarding Manipur riots.
Mrs. KK Shailaja (Address - "Arathi", Pazhassi, Uruvachal PO, Kannur - 670702) has posted an objectionable remark on Facebook social media has been includes here in as annexure.
In this statement, Mrs. Shailaja says that during the Manipur riots, two girls under the age of 25 were publicly molested by pro-Sangh Parivar mobs and that this is happening in India, where slogan of a central government scheme is called "Beti Bachao".
Everyone knows that what is happening in Manipur is a decades-long conflict between two tribal groups and not between two religions or between political parties. The truth is that Ms. Shailaja's statement that "Sangha Parivar" is behind the molestation of these girls is a deliberate fake news with the intention of spreading chaos, violence and riots in the society. With this fake news, Mrs. Shailaja aims to incite riots between communities and tribes. This statement of Mrs. Shailaja has been widely reported by the visual media and it has made the riot atmosphere even more murky. The statement was made to gain political advantage from the riots despite knowing that the statements of Mrs. Shailaja as a former minister of Kerala state, would be taken on faith and will be propagated by the media and people. Knowing that there are many priests and nuns in the Manipur region who know how to handle the Malayalam language, Mrs. Shailaja is well convinced that through them her statement will be spread all over Manipur and because of that the riot atmosphere will become more murky. Yet in a place where communal riots are raging, Mrs. Shailaja has spread fake news for political gain. Moreover, it is absolutely criminal to say that the riots in Manipur is a movement towards the making of Hindu Rashtra by the Sangh Parivar, and that the Sangh Parivar doctrine is an act of destruction, and that the riots in Manipur are an inhuman act of the Sangh Parivar.
This statement by Shailaja is an offense under Section 153, Section 153 A, Section 153 B, Section 295 A and Section 505(1) of the Indian Penal Code. Therefore it is suggested that a case should be registered against Mrs. Shailaja and she should be arrested.
(The screenshot of the above post, Facebook link and reporter channel news poster are given as annexure along with the complaint.
Facebook Link : https://www.facebook.com/100044399800524/posts/pfbid05dQgbybPY5AZfC9tGULn3xh8i8z922vWX5mXfKgmnsDnmbdTBibunvtuuX36rWUYl/?mibextid=cr9u03 )
Yours Sincerely,
Files
What's Your Reaction?