Another espionage case from Kerala?
This is a developing story, we will be including this in our tracker and will keep updating here.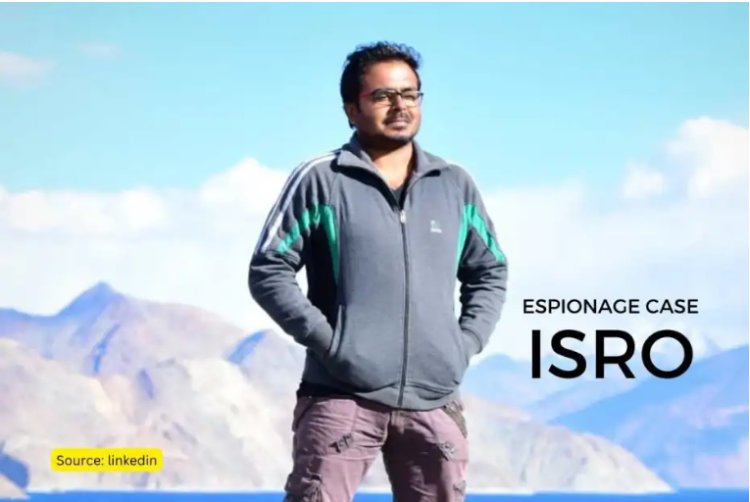 A space scientist working at the Indian Space Research Organization (ISRO) and the Vikram Sarabhai Space Center (VSSC), Praveen Maurya alleged that some spies have been coercing and threatening him to share some classified information about the space program. He is currently working on Gaganyaan (India's first human space mission).
As per his post, Maurya, who is working on Gaganyaan, was approached by a Dubai based man, Ajikumar Surendran, who promised him huge money in exchange for carrying out espionage. He alleges that its done in collution with Kerala Police and some officers are threatening him with fake cases and pressurising him to submit to espionage demands. He has written to Prime Minister Modi with regards to the issue.
He alleges that he has been falsely implicated in a POCSO case in which he states that Ajikumar Surendran used his daughter as the complainant in the POCSO Case.
Praveen Maurya, took to Twitter and Linkedin to shed light on how some spies have been threatening him which goes as
https://www.linkedin.com/posts/praveen-k-maurya_letter-to-prime-minister-and-replies-by-secretary-activity-6995993291754225665-XlAx/
I was approached by spies for carrying out espionage. They promised me huge money in exchange for working as per the command of some people in Dubai. When I blatantly refused and threatened them to never approach me again, they put false police cases on me. Now they offered me to work for them in exchange for taking back the case. Local police and some people from my office were helping them to execute their plan.

All I want is an intelligence enquiry into this matter. I have written letters regarding the same to Chairman, ISRO, Home Minister and Prime minister. The department of space is simply disposing of my letters with the absurd reason, "It is a staff grievance."

The real reason for the denial of intelligence enquiry by the Department of Space is: -

Ø As some senior ISRO officers were helping the spies to execute their plan. So, the entire racket of these anti-national officers present in ISRO will come under the scanner of intelligence bureau.
Ø Officers from the Police department will also be under IB scanner.
Ø One of the senior officers in ISRO who is the main player is the relative of a former chairman of ISRO. If intelligence enquiry is approved, he will surely come under the scanner.

A letter written to the Prime Minister along with the absurd replies by the Secretary, Department of Space is attached here.
In the hope for Prime Minister to take notice and approve an Intelligence enquiry.

PS: IB is ready for an enquiry. All they need is an official request from the Department of Space which they are not giving for the reasons mentioned above.

Edit: As some of friends here have commented to post it on Twitter also, I have posted it on Twitter.
His letter to Prime Minister Narendra Modi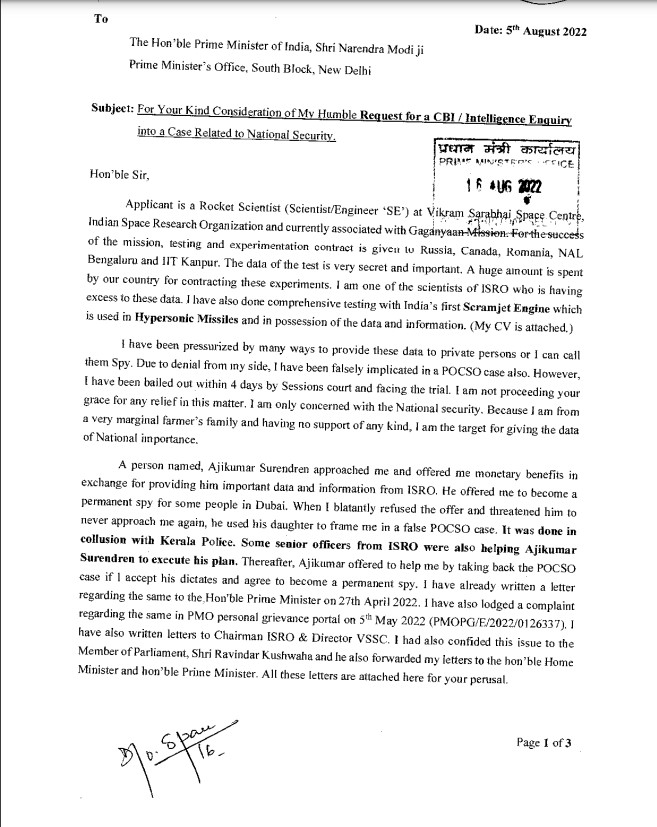 Who is Praveen Maurya?
Praveen Maurya a resident of Thiruvananthapuram, Kerala is a Rocket scientist working at Indian Space Research Organization (ISRO) and Vikram Sarabhai Space Centre (VSSC). He is currently working on Gaganyaan, India's first human space mission.Praveen Maurya (Member, IEEE) was born in Lucknow, India, in 1989. He received the B.Tech. degree in electronics and communication engineering from Uttar Pradesh Technical University, Lucknow, in 2011, and the M.Tech. and Ph.D. (Eng.) degrees in electronics and communication engineering from the Indian Institute of Technology (Indian School of Mines), Dhanbad, India, in 2014 and 2021, respectively. He has authored five papers in international journals and eight international conferences. His current research interests include transducer development, instrumentation, SAW sensor, and MEMS.
Linked In Profile : https://www.linkedin.com/in/praveen-k-maurya/
IEEE Profile : https://ieeexplore.ieee.org/author/37938435700
Twitter Profile : https://twitter.com/praveen_isro
What's Your Reaction?